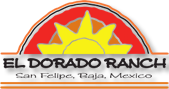 Welcome to El Dorado Ranch.
El Dorado Ranch

Far removed from the highly commercialized and over developed areas of other Baja destinations, El Dorado Ranch provides a unique opportunity not found elsewhere. With everything from beautiful white sandy beaches to a 10,000 foot mountain range it's no wonder our owners and guests refer to El Dorado Ranch as Baja's best kept secret.

Vacationer

Discover the widest variety of accommodations available including rental homes, condos, hotel rooms and more. We also have the best priced travel packages so you will certainly want to read more if you are interested in visiting the area.
This site has an abundance of information, photographs, and virtual tours that will practically bring you into the Baja and El Dorado Ranch. The only thing missing will be the taste of fresh seafood, the breathtaking scenery, and the feeling of strolling along miles of white, sandy beaches. Those feelings can only be experienced by visiting us at El Dorado Ranch.